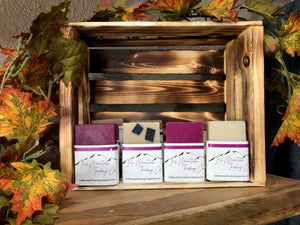 Iris Mountain Trading Bar Soap
Indulge in luxury. Each bar is hand-crafted right here in the USA.  All of our premium cold process bars are made using: Organic shea butter, olive oil, coconut oil, hemp oil, corn oil, soybean oil, water and lye.  Many of our soaps also contain various additives such as oatmeal, sea salt, activated charcoal and more.
1" thick bars Approximately 3.5" x 2.25" x 1" Each bar of soap weighs roughly 4.8oz.
Choose from: 
Dead Sea Mud: Musky earthy fragrance with amber and green base notes. Contains activated charcoal, sea salt, and various clays as exfoliants.
Oatmeal Milk and Honey: After years of testing different scents we believe we have the best Oatmeal Milk & Honey on the planet. Contains ground oatmeal as an exfoliant.
Hawaiian Sunshine: Sweet orange top notes with hints of lemon, patchouli and other musks.
Raspberry: Straight raspberry goodness. Contains sea salt as an exfoliant.
Cranberry Spice: Freshly picked cranberries with hints of clove, cinnamon, and rosemary.
Pearberry: Our blend of cranberry, wild cherry, black raspberry and nashi pear. A distinct fruit blend.
Apple Spice: Sweet red apples with undertones of cinnamon, clove and pumpkin.
Almond Spice: Our roasted almond fragrance mixed with hints of cinnamon, clove and light musks
Charcoal Aloe: Fresh, clean, strong. Charcoal Aloe is a fantastic unisex fragrance for all seasons.
Raspberry Mint: Our fresh raspberry fragrance blended with sweet peppermint